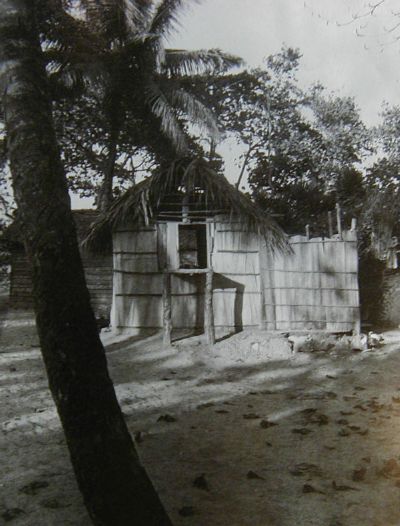 This is a traditional kitchen
The roof is "cana" palm, the sides are "yagua"=petiols from the leaves of the royal palm. Uprights are "palo bruto", thick branches stripped of bark, and stringers are all thin branches, tied down with strips of the fiberous "yagua".
Kitchens are separate from the cottages, for fire safety reasons. Cottages are built with the same materials. The cottage behind the kitchen has the more durable "tabla" siding made from the dense bark of the royal palm. Cottages typically contain a bedroom and an eating or sitting room. The floors are the bare sand. Windows, if any, have closable shutters. There is no glass. Even metal is rare, found only in door hinges and nails for the "tabla" siding.
Photo of Los Cocos, North Central Coast, Dominican Republic, remnant Indio ("Taino") Community 2002 © Cheryl Koalnder